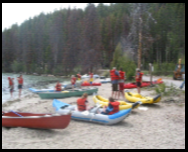 Hosted by the Idaho School for the Deaf and Blind, camp will be held at Pilgrim Cove Camp located on the shores of Payette Lake near McCall, Idaho. Idaho Deaf/Hard of Hearing boys and girls ages 11-16 are eligible to come to camp.
Camp fee: $100
Transportation to and from camp will be provided by ISDB. Pickup points for parents to drop off students:
North Idaho—parents to bring to McCall
Treasure Valley area-meet at IESDB Outreach Office in Meridian
Twin Falls area-meet at CSI
Idaho Falls-meet at State Police parking lot
Blackfoot-meet at Riverside Plaza Mall
Pocatello-meet at Jackson's Gas, Exit 61
Burley area-meet at Walmart parking lot
Interested campers should contact Chris Allison by calling (208) 934-4457 for an application as soon as possible. Deadline for application and camp fee must be submitted by April 24th. More information can be about the camp can be found in this Camp Brochure.
The American School for the Deaf (ASD) in Hartford, Connecticut is celebrating its 200th year anniversary (1817-2017). The ASD is the very first school for the deaf established in the United States of America, and also the first on the North American continent. This school has a long and rich history. As part of their 200 year anniversary celebration, the American School for the Deaf pursued a project to make a commemorative quilt, asking other schools for the deaf in the USA to contribute a quilt square to be included in the quilt.
The Idaho School for the Deaf and the Blind is one of the contributors of a quilt square for this 200 year anniversary quilt. Dorothy Ogden, who has worked in the Library and Copy Center for many years, agreed to apply her artistic talents in designing and completing the quilt square to represent the Idaho School for the Deaf and the Blind. The ISDB quilt square shows the school mascot, a Raptor, bouncing a basketball, and it shows the founding year for ISDB. If you look at the entire quilt, the ISDB square is in the second row from the top, near the left side.